ДИСПАНСЕРИЗАЦИЯ ПАЦИЕНТОВ С ВИРУС-АССОЦИИРОВАННЫМИ ЦИРРОЗАМИ ПЕЧЕНИ В ПЕРИОД ПАНДЕМИИ COVID-19
Аннотация
Введение. Цирроз печени (ЦП) – конечная стадия хронических заболеваний печени, причем не менее половины случаев ЦП формируются в исходе хронических вирусных гепатитов В и С. Доказана более высокая заболеваемость и смертность от COVID-19 у пациентов с ЦП. В период пандемии во многих странах доступ к плановой медицинской помощи затруднен, что ухудшает прогноз пациентов с ЦП, в том числе и вирус-ассоциированным.
Цель исследования. Оценить эффективность диспансеризации пациентов с вирус-ассоциированными ЦП в г. Гомеле в период пандемии COVID-19.
Материал и методы. Проанализированы 127 медицинских карт амбулаторных пациентов с вирус-ассоциированными ЦП, состоящих на диспансерном учете в ГУЗ «Гомельская центральная городская клиническая поликлиника» в 2020 и 2021 гг. Маркеры HCV-инфекции выявлены у 92,1%, HBV-инфекции – у 7,9% пациентов.
Результаты. Диспансерный осмотр в полном объеме прошли 38,6% пациентов, 48,8% имели неполный объем исследований, 12,6% не явились на осмотр. Пациенты, не прошедшие диспансеризацию, чаще обращались к врачу с жалобами на состояние здоровья (χ2=9,77, р=0,002), 32,3% из них были госпитализированы.
Полный объем диспансеризации пациентов с ЦП класса А составил 26%, с классом тяжести В – 44%, классом С – 49%.
Выводы. Необходимо обеспечить пациентов с ЦП плановой амбулаторной помощью и диспансерным наблюдением в полном объеме, даже в период пандемии COVID-19.
Литература
Moon AM, Singal AG, Tapper EB. Contemporary Epidemiology of Chronic Liver Disease and Cirrhosis. Clin Gastroenterol Hepatol. 2020;18(12):2650-2666. https://doi.org/10.1016/j.cgh.2019.07.060
Yoshiji H, Nagoshi S, Akahane T, Asaoka Y, Ueno Y, Ogawa K, Kawaguchi T, Kurosaki M, Sakaida I, Shimizu M, Taniai M, Terai S, Nishikawa H, Hiasa Y, Hidaka H, Miwa H, Chayama K, Enomoto N, Shimosegawa T, Takehara T, Koike K. Evidence-based clinical practice guidelines for Liver Cirrhosis 2020. J Gastroenterol. 2021;56(7):593-619. https://doi.org/10.1007/s00535-021-01788-x
GBD 2017 Cirrhosis Collaborators. The global, regional, and national burden of cirrhosis by cause in 195 countries and territories, 1990-2017: a systematic analysis for the Global Burden of Disease Study 2017. Lancet Gastroenterol Hepatol. 2020;5(3):245-266. https://doi.org/10.1016/S2468-1253(19)30349-8
Guan WJ, Ni ZY, Hu Y, Liang WH, Ou CQ, He JX, Liu L, Shan H, Lei CL, Hui DSC, Du B, Li LJ, Zeng G, Yuen KY, Chen RC, Tang CL, Wang T, Chen PY, Xiang J, Li SY, Wang JL, Liang ZJ, Peng YX, Wei L, Liu Y, Hu YH, Peng P, et al. Clinical Characteristics of Coronavirus Disease 2019 in China. N Engl J Med. 2020;382(18):1708-1720. https://doi.org/10.1056/NEJMoa2002032
Kovalic AJ, Satapathy SK, Thuluvath PJ. Prevalence of chronic liver disease in patients with COVID-19 and their clinical outcomes: a systematic review and meta-analysis. Hepatol Int. 2020;14(5):612-620. https://doi.org/10.1007/s12072-020-10078-2
Iavarone M, D'Ambrosio R, Soria A, Triolo M, Pugliese N, Del Poggio P, Perricone G, Massironi S, Spinetti A, Buscarini E, Viganò M, Carriero C, Fagiuoli S, Aghemo A, Belli LS, Lucà M, Pedaci M, Rimondi A, Rumi MG, Invernizzi P, Bonfanti P, Lampertico P. High rates of 30-day mortality in patients with cirrhosis and COVID-19. J Hepatol. 2020;73(5):1063-1071. https://doi.org/10.1016/j.jhep.2020.06.001
Zhai M, Long J, Liu S, Liu C, Li L, Yang L, Li Y, Shu B. The burden of liver cirrhosis and underlying etiologies: results from the global burden of disease study 2017. Aging (Albany NY). 2021;13(1):279-300. https://doi.org/10.18632/aging.104127
Zou X, Fang M, Li S, Wu L, Gao B, Gao H, Ran X, Bian Y, Li R, ShanshanYu, Ling J, Li D, Tian D, Huang J. Characteristics of Liver Function in Patients with SARSCoV-2 and Chronic HBV Coinfection. Clin Gastroenterol Hepatol. 2021;19(3):597-603. https://doi.org/10.1016/j.cgh.2020.06.017
Skladany L, Koller T, Adamcova Selcanova S, Vnencakova J, Jancekova D, Durajova V, Laffers L, Svac J, Janickova K, Palkovič M, Kohout P, Golubnitschaja O. Challenging management of severe chronic disorders in acute pandemic situation: Chronic liver disease under COVID-19 pandemic as the proof-of-principle model to orchestrate the measures in 3PM context. EPMA J. 2021;12(1):1-14. https://doi.org/10.1007/s13167-021-00231-8
Marjot T, Moon AM, Cook JA, Abd-Elsalam S, Aloman C, Armstrong MJ, Pose E, Brenner EJ, Cargill T, Catana MA, Dhanasekaran R, Eshraghian A, García-Juárez I, Gill US, Jones PD, Kennedy J, Marshall A, Matthews C, Mells G, Mercer C, Perumalswami PV, Avitabile E, Qi X, Su F, Ufere NN, Wong YJ, Zheng MH, et al. Outcomes following SARSCoV-2 infection in patients with chronic liver disease: An international registry study. J Hepatol. 2021;74(3):567-577. https://doi.org/10.1016/j.jhep.2020.09.024
Hamid S, Alvares da Silva MR, Burak KW, Chen T, Drenth JPH, Esmat G, Gaspar R, LaBrecque D, Lee A, Macedo G, McMahon B, Ning Q, Reau N, Sonderup M, van Leeuwen DJ, Armstrong D, Yurdaydin C. WGO Guidance for the Care of Patients with COVID-19 and Liver Disease. J Clin Gastroenterol. 2021;55(1):1-11. https://doi.org/10.1097/MCG.0000000000001459
Toyoda H, Huang DQ, Le MH, Nguyen MH. Liver Care and Surveillance: The Global Impact of the COVID-19 Pandemic. Hepatol Commun. 2020;4(12):1751-1757. https://doi.org/10.1002/hep4.1579
Téllez L, Martín Mateos RM. COVID-19 and liver disease: An update. Gastroenterol Hepatol. 2020;43(8):472-480. https://doi.org/10.1016/j.gastrohep.2020.06.006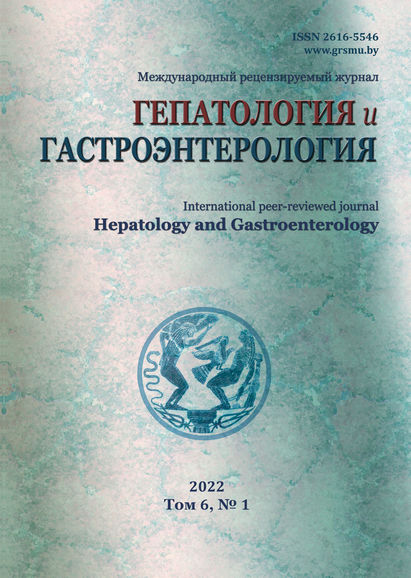 Как цитировать
1.
Воропаева АЕ, Мицура ВМ. ДИСПАНСЕРИЗАЦИЯ ПАЦИЕНТОВ С ВИРУС-АССОЦИИРОВАННЫМИ ЦИРРОЗАМИ ПЕЧЕНИ В ПЕРИОД ПАНДЕМИИ COVID-19. journalHandG [Интернет]. 6 июнь 2022 г. [цитируется по 29 ноябрь 2022 г.];6(1):44-7. доступно на: http://www.journal-grsmu.by/index.php/journalHandG/article/view/233
Раздел
Оригинальные исследования