КАЧЕСТВО ЖИЗНИ И ПСИХОЭМОЦИОНАЛЬНЫЕ НАРУШЕНИЯ КАК КРИТЕРИЙ ЭФФЕКТИВНОСТИ ТЕРАПИИ У ПАЦИЕНТОВ С ЯЗВЕННЫМ КОЛИТОМ
Аннотация
Введение. Анализ качества жизни (КЖ) и психоэмоциональных нарушений (ПЭН) позволяет не только мониторить течение заболевания, но и решать многие вопросы, возникающие в процессе лечения.
Цель исследования. Изучить качество жизни и психоэмоциональные нарушения в качестве критерия эффективности лечения пациентов с язвенным колитом (ЯК).
Материал и методы. В исследование включены 52 пациента с ЯК и 52 здоровых добровольца (ЗД). Применялись опросник по определению КЖ пациентов с воспалительными заболеваниями кишечника IBDQ, шкала тревоги и депрессии HAD, опросник А. М. Вейна.
Результаты. Установлена большая выраженность психологических проблем у пациентов с ЯК до лечения как по шкале тревоги (р=0,0000003), так и депрессии (р=0,0000004). Терапия приводила к снижению выраженности психологических проблем по шкале тревоги (р=0,0000007) и депрессии (р=0,0000003), позволяла пациентам с ЯК по шкале тревоги приблизиться к группе ЗД (р=0,20). Сравнение пациентов с ЯК по синдрому вегетативной дисфункции (СВД) до и после лечения установило уменьшение выраженности СВД (р=0,0000010).
Выводы. Метод оценки КЖ и ПЭН может быть использован при оценке эффективности лечения пациентов с ЯК.
Литература
Knjazev OV, Shkurko TV, Kagramanova AV, Veselov AV, Nikonov EL. Jepidemiologija vospalitelnyh zabolevanij kishechnika. Sovremennoe sostojanie problemy (obzor literatury) [Epidemiology of inflammatory bowel disease. State of the problem (review)]. Dokazatelnaja gastrojenterologija [Russian Journal of Evidence-Based Gastroenterology]. 2020;9(2):66-73. https://doi.org/10.17116/dokgastro2020902166 (Russian).
Khalif L, Shapina MV, Golovenko AO, Belousova YeA, Chashkova YeYu, Lakhin AV, Knyazev OV, Baranovsky AYu, Nikolayeva NN, Tkachev AV. Techenie hronicheskih vospalitelnyh zabolevanij kishechnika i metody ih lechenija, primenjaemye v Rossijskoj Federacii (Rezultaty mnogocentrovogo populjacionnogo odnomomentnogo nabljudatelnogo issledovanija) [Chronic inflammatory bowel diseases: the course and treatment methods in russian federation (Results of multicenter populationbased one-stage observational study)]. Rossijskij zhurnal gastrojenterologii, gepatologii, koloproktologii [Russian Journal of Gastroenterology, Hepatology, Coloproctology]. 2018;28(3):54-62. https://doi.org/10.22416/1382-4376-2018-28-3-54-62 (Russian).
Ng SC, Shi HY, Hamidi N, Underwood FE, Tang W, Benchimol EI, Panaccione R, Ghosh S, Wu JCY, Chan FKL, Sung JJY, Kaplan GG. Worldwide incidence and prevalence of inflammatory bowel disease in the 21st century: a systematic review of population-based studies. Lancet. 2017;390(10114):2769-2778. https://doi.org/10.1016/S0140-6736(17)32448-0
Binnatli ShA, Aleshin DV, Kulikov AJe, Romanov RI. Kachestvo zhizni pacientov, operirovannyh po povodu jazvennogo kolita [Quality life of patients operated for ulcerative colitis]. Koloproktologija. 2019;18(1):89-100. https://doi.org/10.33878/2073-7556-2019-18-1-89-100 (Russian).
Knowles SR, Keefer L, Wilding H, Hewitt C, Graff LA, Mikocka-Walus A. Quality of Life in Inflammatory Bowel Disease: A Systematic Review and Meta-analyses-Part II. Inflamm Bowel Dis. 2018;24(5):966-976. https://doi.org/10.1093/ibd/izy015
Mnatsakanyan MG, Dyukova GM, Pogromov AP, Tashchyan OV. Jemocionalno-lichnostnye osobennosti u bolnyh s sindromom razdrazhennogo kishechnika i vospalitelnymi zabolevanijami kishechnika [Emotional and personality features of patients with irritable bowel syndrome and bowel inflammatory diseases]. Klinicheskaja medicina [Clinical Medicine (Russian Journal)]. 2016;94(10):764-769. https://doi.org/10.18821/0023-2149-2016-94-10-764-769 (Russian).
Kharitidis AM, Shhukina OB. Sovremennyj vzgljad na vedenie pacientov s jazvennym kolitom legkoj i srednej stepeni tjazhesti v ambulatornoj praktike [A modern view on the management of patients with ulcerative colitis of mild and moderate severity in outpatient practice]. Lechashhij vrach. 2022;2(25):25-31. https://doi.org/10.51793/OS.2022.25.2.004 (Russian).
Golovenko OV, Homeriki SG, Ivanova EV, Fedorov ED, Golovenko AO. Vospalitelnye zabolevanija kishechnika. Klinicheskie, jendoskopicheskie, morfologicheskie aspekty diagnostiki. Principy sovremennoj terapii. Mоskva; 2017. 180 p. (Russian).
Bandel VE, Mikhailova EI. Mental health and quality of life in patients with ulcerative colitis. Problemy zdorovja i jekologii Health and Ecology Issues]. 2021;18(3):42-46. https://doi.org/10.51523/2708-6011.2021-18-3-5. (Russian).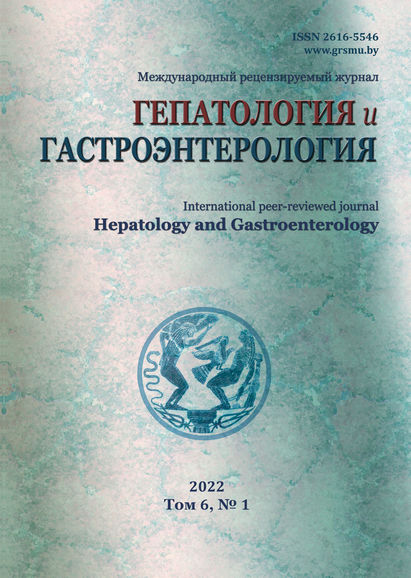 Как цитировать
1.
Бандель ВЕ, Михайлова ЕИ, Трофимова НВ. КАЧЕСТВО ЖИЗНИ И ПСИХОЭМОЦИОНАЛЬНЫЕ НАРУШЕНИЯ КАК КРИТЕРИЙ ЭФФЕКТИВНОСТИ ТЕРАПИИ У ПАЦИЕНТОВ С ЯЗВЕННЫМ КОЛИТОМ. journalHandG [Интернет]. 7 июнь 2022 г. [цитируется по 7 декабрь 2022 г.];6(1):77-1. доступно на: http://www.journal-grsmu.by/index.php/journalHandG/article/view/242
Раздел
Оригинальные исследования